[Style Boat Market] Recovery Yoga Mat / Style Boat Market Yoga Mat 4mm Training Fitness / 23SS
商品情報
サイズ・素材
注意事項
shopping guide
✉Inquiries about this product
☆カスタマーレビュー
商品情報
[StyleBoatMarket] Recovery Yoga Mat 4mm
A yoga mat created by Japanese technology that considers health and the environment

Japan's largest comparison verification site "mybest" yoga mat category NO.1! A new series of recovery mats is now available! The thickness of the mat is 4mm, making it slim. Compared to 5mm type mats, it is slim when rolled about 1.5cm-2cm. The cushioning and gripping properties are the same as 5mm, and 4mm has sufficient cushioning because it has high resilience. And it is even lighter, realizing a weight of 950g and 1kg or less. The EVA x rubber hybrid material is strong, water resistant, and super lightweight like air. In addition, it is an environmentally friendly and versatile material that does not emit harmful substances when burned. It prevents the penetration of water and prevents the growth of bacteria such as mold. It has a lot of friction surface and realizes a comfortable texture like rice cake and high grip power.

About product features
Ultralight 950g
Slim and easy to carry even when rolled up Ultra lightweight like air with many air bubbles Prevents water penetration and prevents the growth of bacteria such as mold, making it hygienic Non-slip surface with a rice-like texture Highly grippy with many friction surfaces Sustainable material with consideration for the environment
Smooth material developed by buntaro (insole material manufacturer founded 70 years ago)

advice
I like the stylish design that makes the room stand out even if you leave it on the floor. It supports hard poses with a versatile grip. A new sensation yoga mat that uses rubber filled with Japanese technology is an item I would like to recommend to all yogis.

StyleBoatMarket recovery yoga mat 4mm (recovery yogamat) is a new item for 23SS (spring/summer). It is a hybrid material of EVA x rubber, strong and water resistant, and has many bubbles and is super lightweight like air. We have achieved 950g and 1kg or less while maintaining the functions of the recovery mat series. It is a versatile material that does not lose grip and does not slip even when you sweat because fine bubbles on the surface prevent water from penetrating. With a width of 66 cm, you can pose comfortably. Not only can it be used for sports such as hot yoga, fitness, Pilates, training (muscle training), exercise, and dieting, but it is also recommended as a soundproof mat because it has a beautiful pattern design reminiscent of stylish and cute marble that blends well with interiors.
サイズ・素材
【サイズ】66×180×4mm
【重量】950g
【素材】EVA×Synthetic rubber

【素材感/機能】
グリップ力:★★★★★(良い)
クッション性:★★★☆☆(あり)
おすすめレベル:初心者~上級者
持ち運びレベル:★★★★★

注意事項
※実際の商品はお客様のお使いの端末や閲覧環境により、写真と実物の色味や質感が多少異なって見える場合がございます。予めご了承ください。
※こちらのマットはゴムを使用しております。ゴムの素材特有のにおいを感じる場合があります。においを軽減させるため、弊社でも発送前に数日間広げて消臭してから納品を行っておりますが、万が一、においがまだ気になる場合は、外に広げて干していただくことで時間経過とともに薄れていきます。
shopping guide
Puravida! offers free shipping and 14 days free exchange and return. Please enjoy shopping with confidence.
*Some products, such as sale items, may not be eligible. If you are using Puravida! for the first time, please refer to the usage guide .
*You can check how to choose the size and how to measure from each product page.
About shipping & delivery

○ postage

■ home delivery
550 yen nationwide (Okinawa and remote islands 1,320 yen)
Free nationwide shipping for orders totaling 4,400 yen or more
*Delivery company cannot be specified.
*For orders to Okinawa and remote islands,
We will discount 550 yen from the regular price for orders totaling 11,000 yen or more.
■ mail service
275 yen nationwide
Only specified products and points can be delivered by mail.
Free nationwide shipping for orders over 4,400 yen


○Delivery

Orders placed before 12:00 on weekdays can be shipped the same day or delivered the next day. (For Honshu area)
We ship every day except Saturdays, Sundays, national holidays, our company's prescribed holidays, and the year-end and New Year holidays.
Click here for details

Exchange & Return

○Returns/Exchanges

Items can be exchanged within 14 days of purchase.
*Please note that the customer is responsible for the shipping and handling charges incurred when returning the product due to the customer's circumstances.
We cannot accept returns of products purchased during the sale period or discounted products. please note that.
Click here for details

About wrapping

Please select the desired wrapping when ordering the product and add it to the shopping cart. We accept wrapping for a fee.
*Some products cannot be wrapped.



Eco wrapping ¥ 275 (tax included)

Yoga mat wrapping ¥ 550 (tax included)

payment method

Credit card (Visa, Master, American Express)
PayPal
Amazon Pay
Apple Pay
Google Pay
Bank transfer (Rakuten Bank)
Cash on delivery: The fee is 330 yen for purchases under 10,000 yen, and is free for purchases over 10,000 yen.
Convenience store payment: Prepayment is required. The fee is a uniform 190 yen per order.

Click here for details

About the product

○ About product photos

Regarding the color of the product, we try to be as faithful as possible to the actual color of the product, but depending on the shooting environment and the viewing device, the color and texture may appear different from the actual product. Thank you for your understanding.

○ About print products

For products with printed patterns, the appearance of the pattern may differ from the posted photo depending on the cutting position. please note that.

Notes on sale

Product prices may change without notice during the sale period. We cannot accept discounts on products after purchase. Please understand the point.
✉Inquiries about this product
{formbuilder:1143}
DETAIL >> 商品詳細を見る(ページが下に展開します)
[Style Boat Market] リカバリー ヨガマット
スタイルボートマーケット ヨガマット 4mm トレーニング フィットネス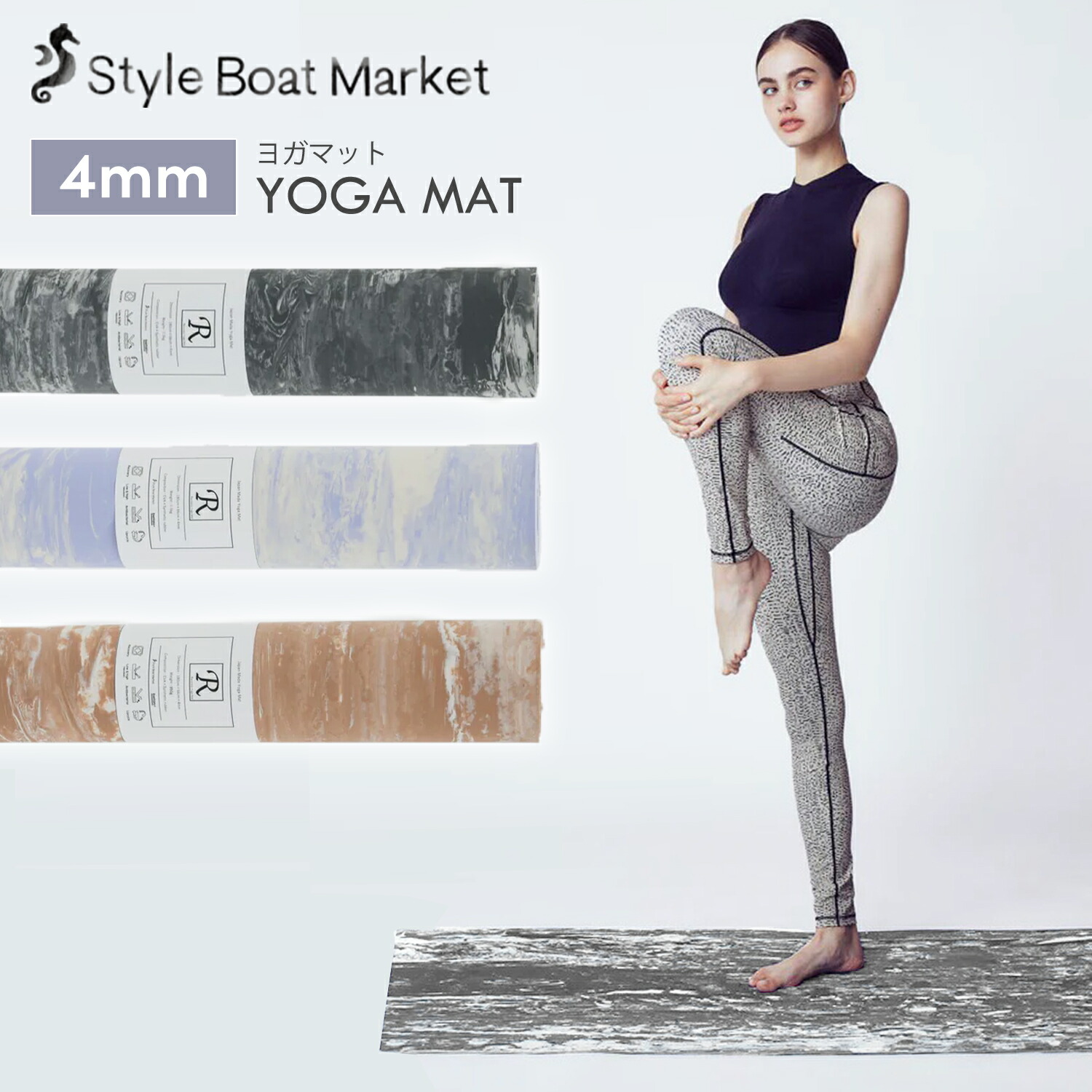 健康と環境を考えた日本技術が生んだヨガマット
日本最大級の比較検証サイト「mybest」ヨガマット部門 NO.1!リカバリーマットに新シリーズが登場!マット厚みが4mmになり、スリムになりました。5mmタイプのマットと比べると、約1.5cm-2cmも巻いた時にスリムになっています。クッション性、グリップ性が5mmと変わらず、高反発なので4mmでも十分なクッション性です。そしてさらに軽量となり950gと1kg以下の重さを実現。EVA×ゴムのハイブリット素材は強度が強く、水にも強く空気のように超軽量。また燃やしても有害物質を出さない環境を配慮した万能素材です。水の浸透を防ぎカビなどの細菌も繁殖しにくく衛生面に優れおり、汗などでの滑りも最小限に抑えます。摩擦面が多くお餅のような心地よい肌触りと高グリップ力を実現。