[SALE14%OFF][tejas] Kariyana Top Tejas Women's Yoga Wear Long Length Made in Japan Loose / TL231302 23SS
商品情報
サイズ・素材
USE&CARE
shopping guide
✉Inquiries about this product
☆カスタマーレビュー
商品情報
[tejas] Kalyana top
Long-sleeved dolman top with a soft texture
About product features
Long sleeves with dolman sleeves Moderately loose and soft to wear Soft and elegant drape Design that can be used not only for yoga but also for daily use

advice
The material is very soft and comfortable. Even if you wear it directly on your bare skin, it won't feel stiff. It's loose and stretchy, so it's easy to put on and take off. It's comfortable to wear and can be used as a haori for lessons or as a fashionable outfit for everyday wear. The back hem covers the roundness of the buttocks, so the back looks very beautiful.

Tejas 22FW (Autumn/Winter 2022) new yoga wear "kalyana-tops" is a long-sleeved yoga top (cut and sew) for women. The relaxed line of the dolman sleeve is stylish. The length covers the hips and covers your body shape. The skin-friendly rayon material has excellent elasticity and is smooth and comfortable to the touch. It is a solid color that is easy to coordinate and comes in basic colors such as black. Free size. It can be used for a wide range of purposes such as yoga, pilates, running, aerobics, fitness, home training, home yoga, and daily use.

サイズ・素材
【サイズ】



■上記サイズは平置きサイズとなります。
■ストレッチ素材のため上記平置きサイズより5-10センチ前後伸びがあるとお考え下さい。

【素材】
表地:レーヨン95%、ポリウレタン5%

【生産国】日本

USE&CARE
・長くご愛用いただくために、洗濯ネットでのお洗濯や手洗いをお勧めします。
・蛍光増白剤が入っていない洗剤をご使用ください。
・お洗濯により多少縮むことがございます。
・お洗濯の際には商品付属のタグをご確認下さい。

shopping guide
Puravida! offers free shipping and 14 days free exchange and return. Please enjoy shopping with confidence.
*Some products, such as sale items, may not be eligible. If you are using Puravida! for the first time, please refer to the usage guide .
*You can check how to choose the size and how to measure from each product page.
About shipping & delivery

○ postage

■ home delivery
550 yen nationwide (Okinawa and remote islands 1,320 yen)
Free nationwide shipping for orders totaling 4,400 yen or more
*Delivery company cannot be specified.
*For orders to Okinawa and remote islands,
We will discount 550 yen from the regular price for orders totaling 11,000 yen or more.
■ mail service
275 yen nationwide
Only specified products and points can be delivered by mail.
Free nationwide shipping for orders over 4,400 yen


○Delivery

Orders placed before 12:00 on weekdays can be shipped the same day or delivered the next day. (For Honshu area)
We ship every day except Saturdays, Sundays, national holidays, our company's prescribed holidays, and the year-end and New Year holidays.
Click here for details

Exchange & Return

○Returns/Exchanges

Items can be exchanged within 14 days of purchase.
*Please note that the customer is responsible for the shipping and handling charges incurred when returning the product due to the customer's circumstances.
We cannot accept returns of products purchased during the sale period or discounted products. please note that.
Click here for details

About wrapping

Please select the desired wrapping when ordering the product and add it to the shopping cart. We accept wrapping for a fee.
*Some products cannot be wrapped.



Eco wrapping ¥ 275 (tax included)

Yoga mat wrapping ¥ 550 (tax included)

payment method

Credit card (Visa, Master, American Express)
PayPal
Amazon Pay
Apple Pay
Google Pay
Bank transfer (Rakuten Bank)
Cash on delivery: The fee is 330 yen for purchases under 10,000 yen, and is free for purchases over 10,000 yen.
Convenience store payment: Prepayment is required. The fee is a uniform 190 yen per order.

Click here for details

About the product

○ About product photos

Regarding the color of the product, we try to be as faithful as possible to the actual color of the product, but depending on the shooting environment and the viewing device, the color and texture may appear different from the actual product. Thank you for your understanding.

○ About print products

For products with printed patterns, the appearance of the pattern may differ from the posted photo depending on the cutting position. please note that.

Notes on sale

Product prices may change without notice during the sale period. We cannot accept discounts on products after purchase. Please understand the point.
✉Inquiries about this product
{formbuilder:1143}
DETAIL >> 商品詳細を見る(ページが下に展開します)
[tejas] カリヤーナ トップス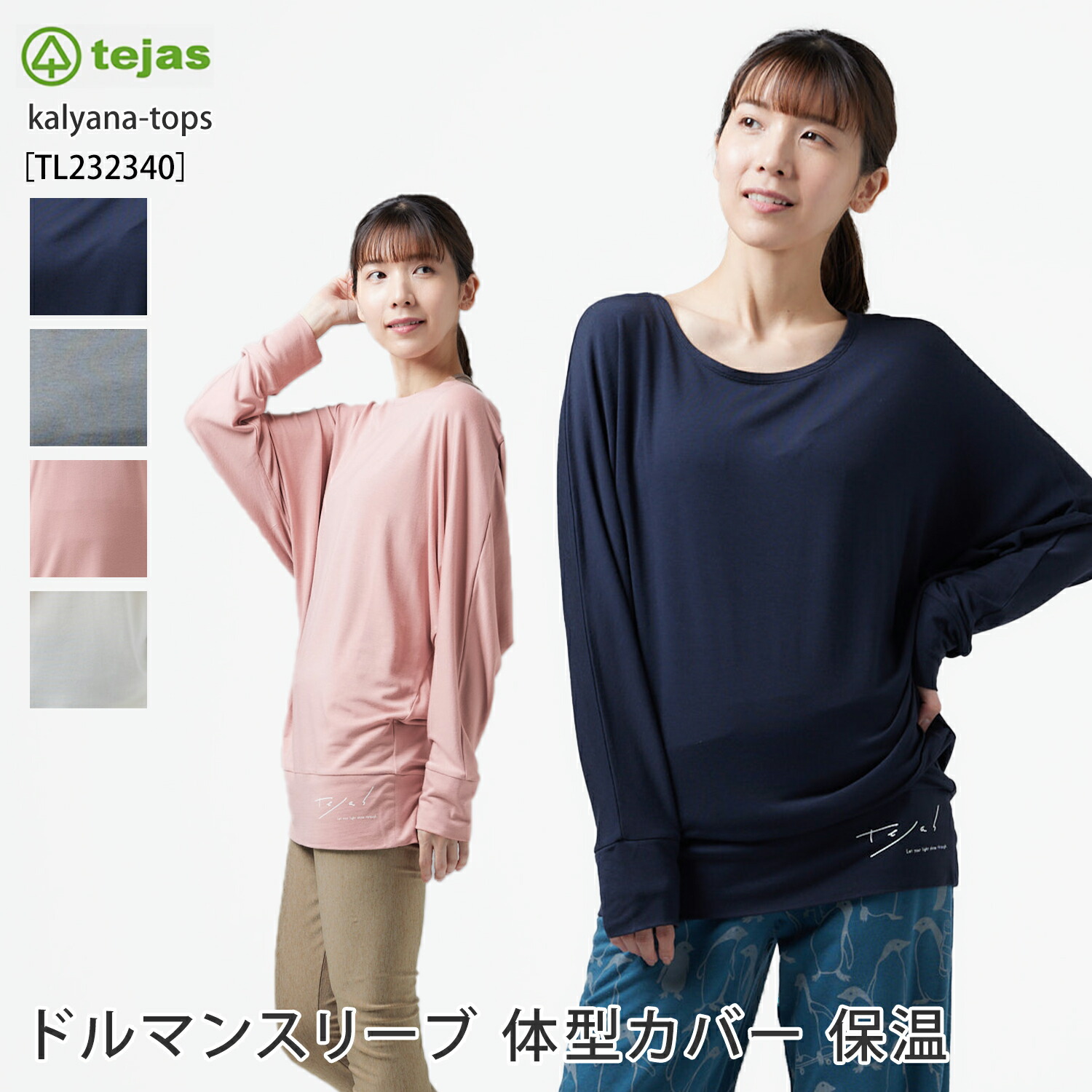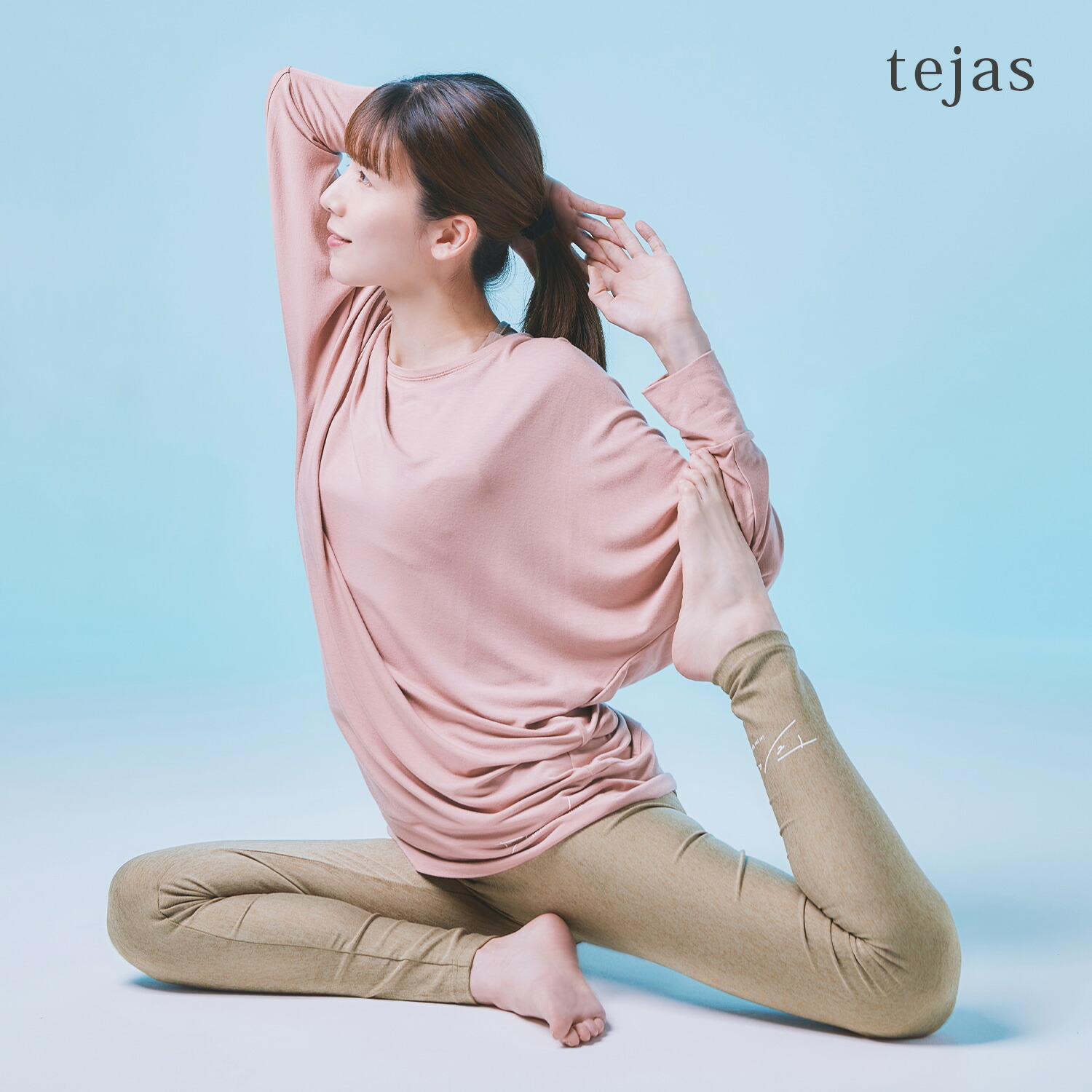 ソフトな風合いの長袖ドルマントップス
tejasらしいゆったりとしたシルエットのドルマンスリーブのトップス。素材は肌に優しいレーヨンはサラサラした柔らかさがとても心地よく、伸縮の強さはストレス無くヨガの動きをサポートします。湿気や汗を熱に変えて保温する素材を使用し、トレーニング中の体温を快適に保ちます。着丈は長めになっているので、お尻周りもしっかりつつんでくれます。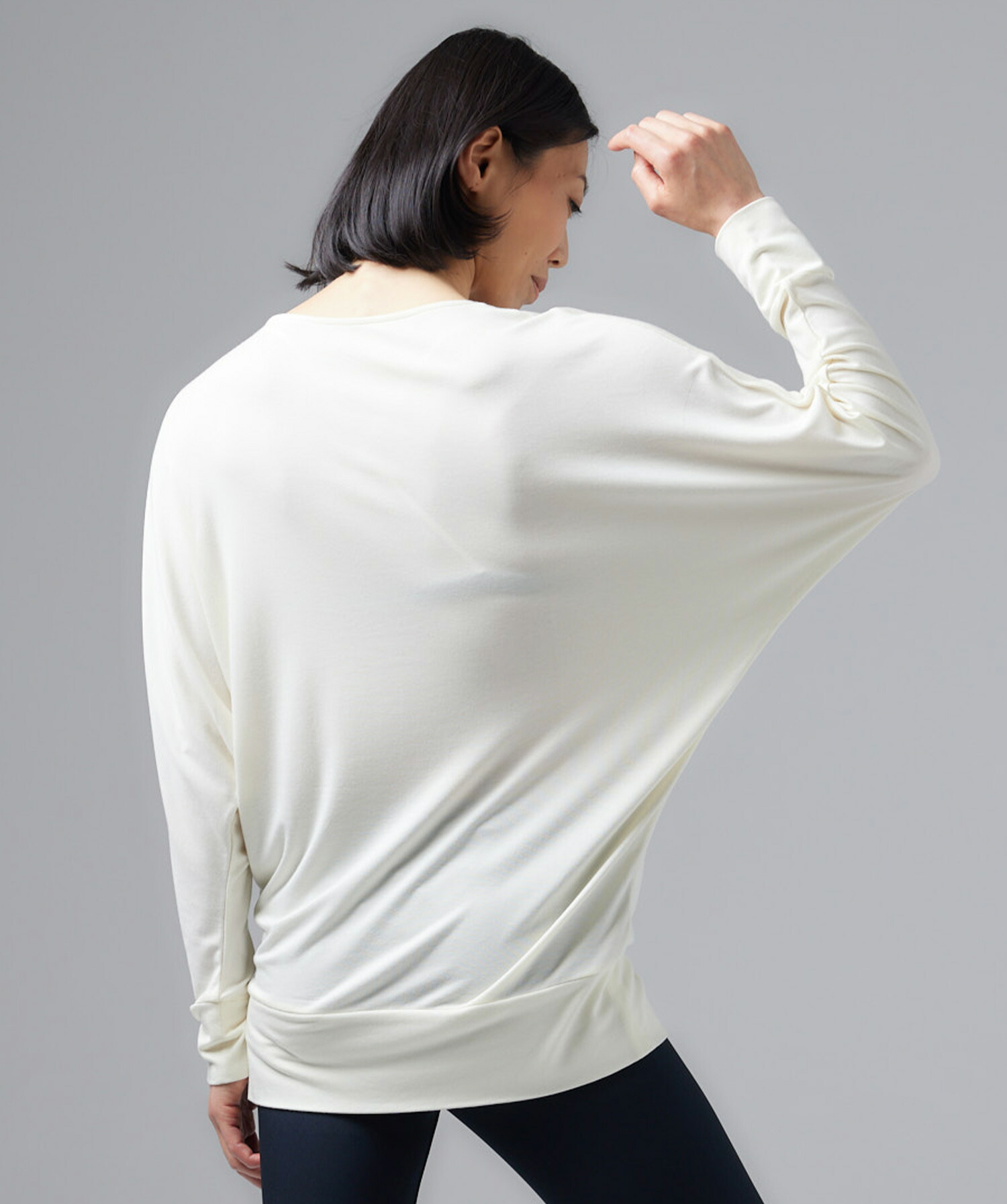 無駄のないシンプルなデザイン
『kalyana』
サンスクリット語読み:カリヤーナ
意味:美しい、愛らしい、よい
どんなボトムストも合わせやすいシンプルなデザイン。無駄のないデザインなので、より素材やシルエットの良さを実感できます。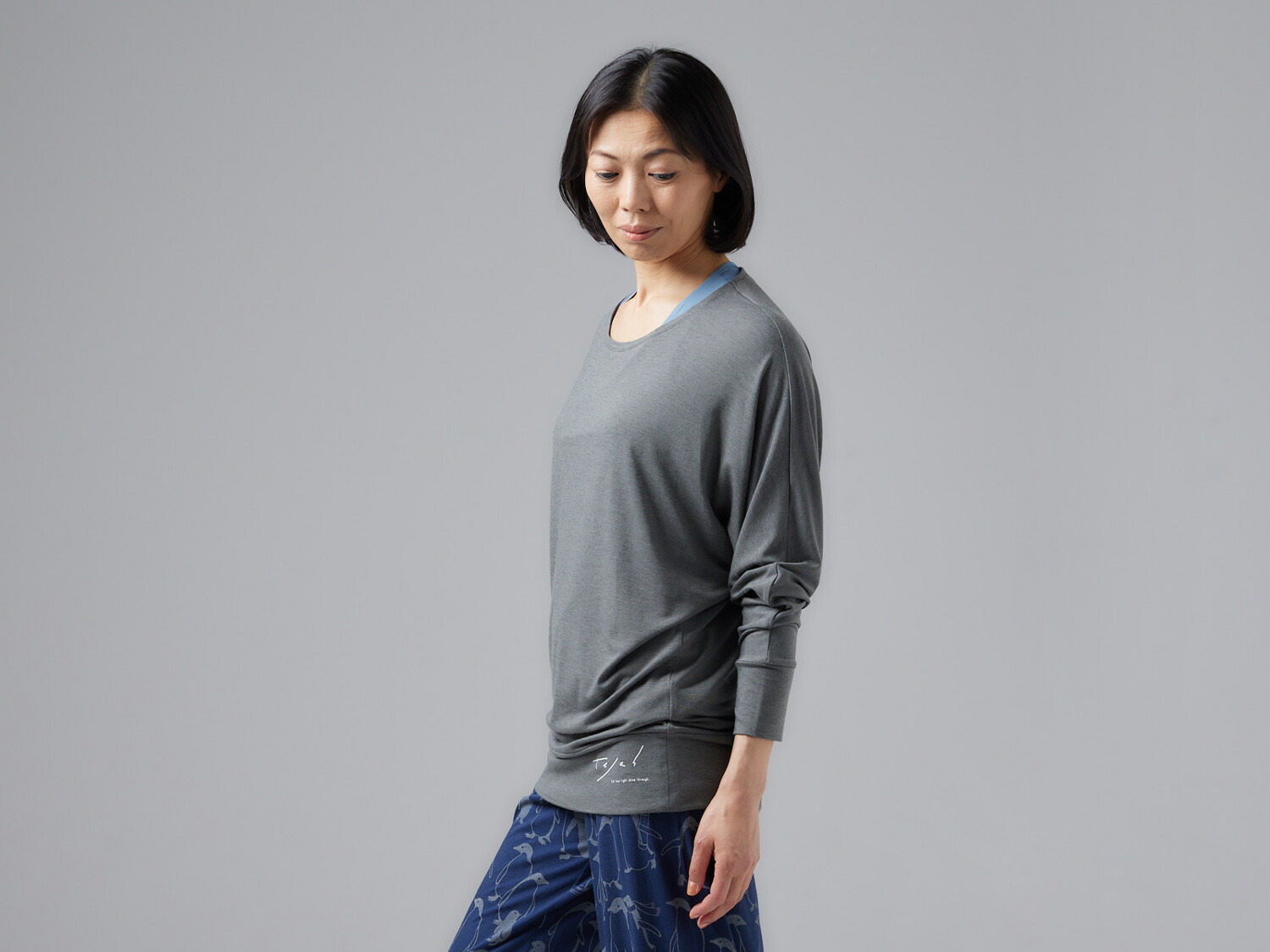 ウエスト・ヒップ周りを体型カバー
ゆったりとしたシルエットで、気になる腰周りをカバーしてくれます。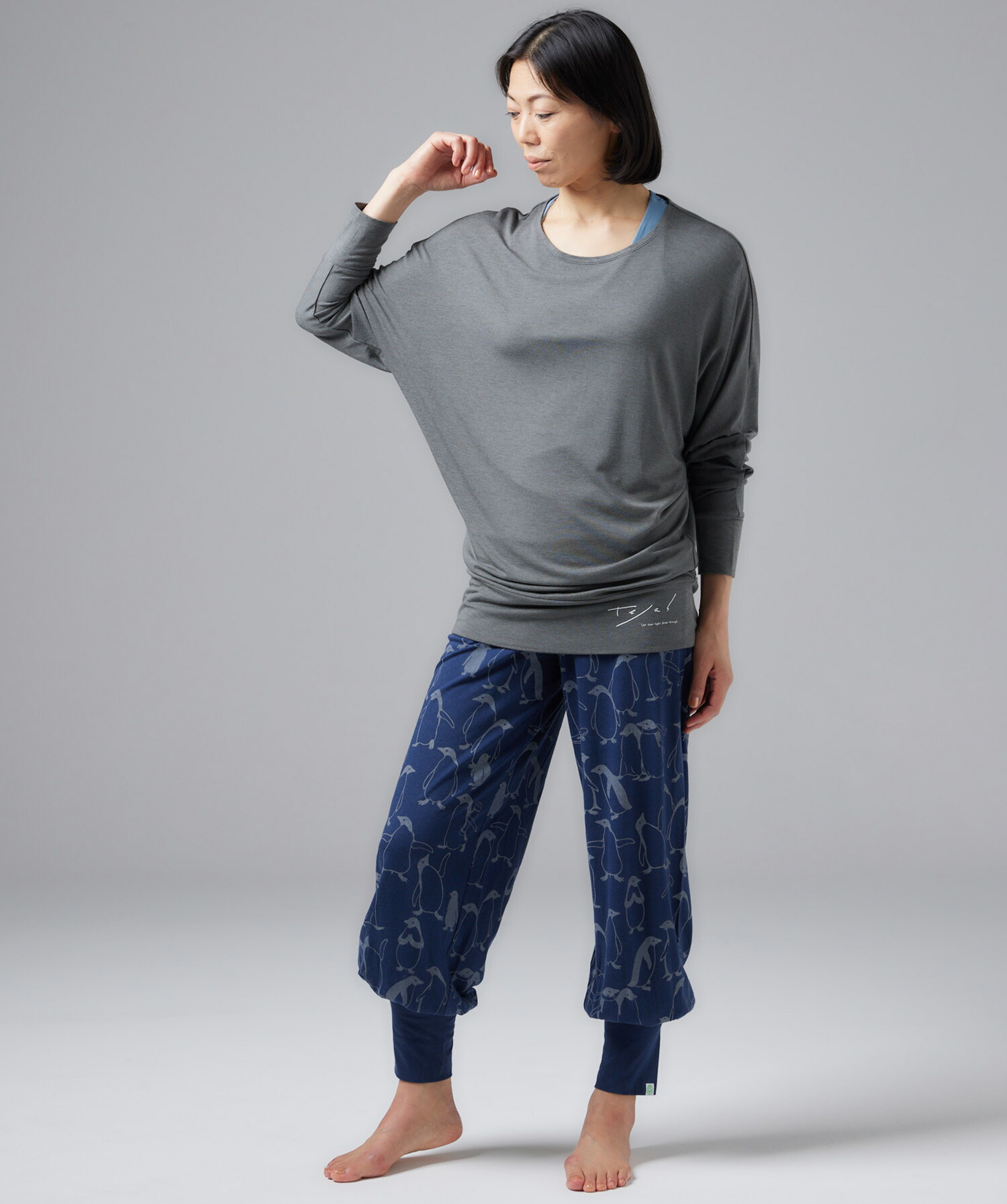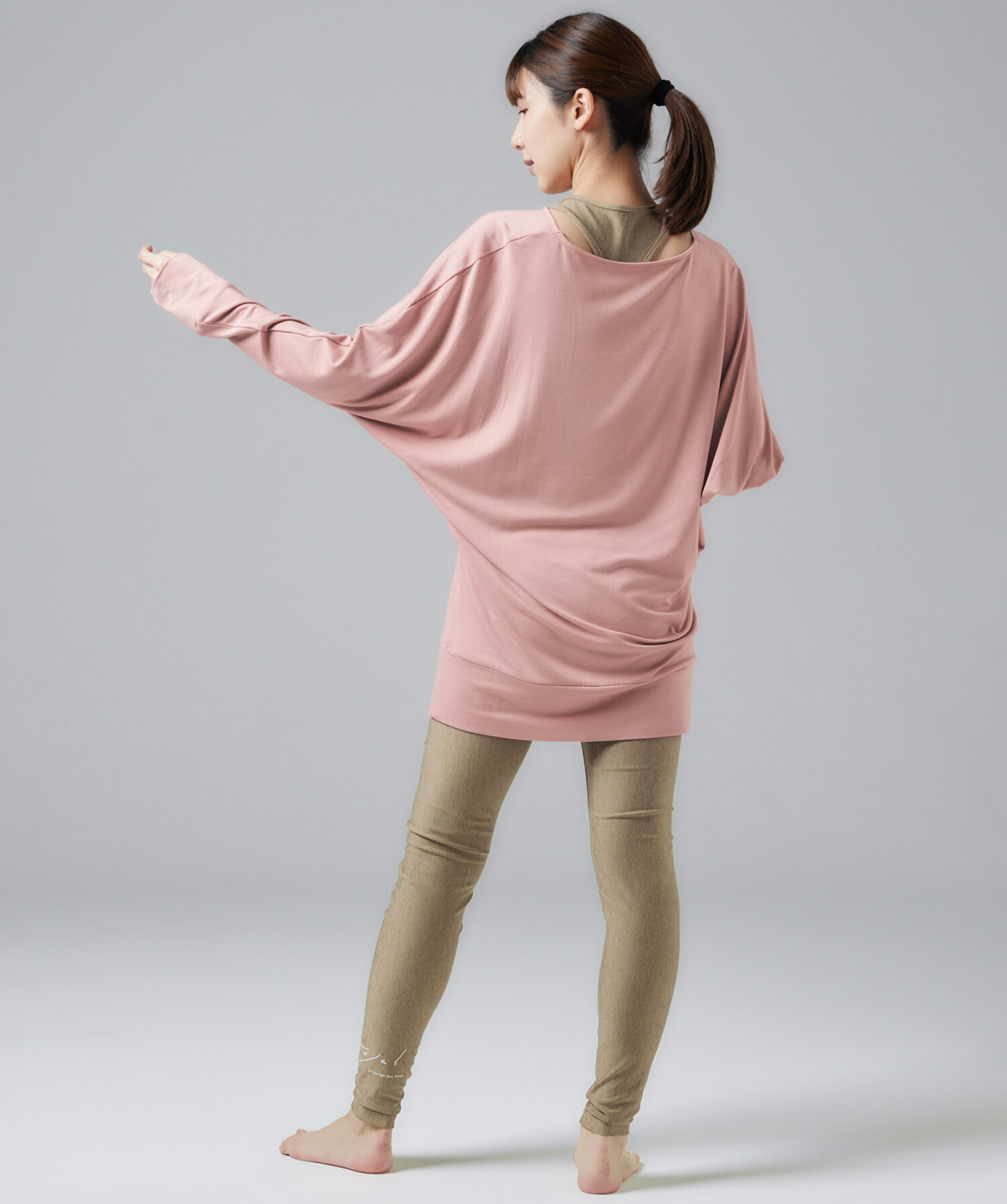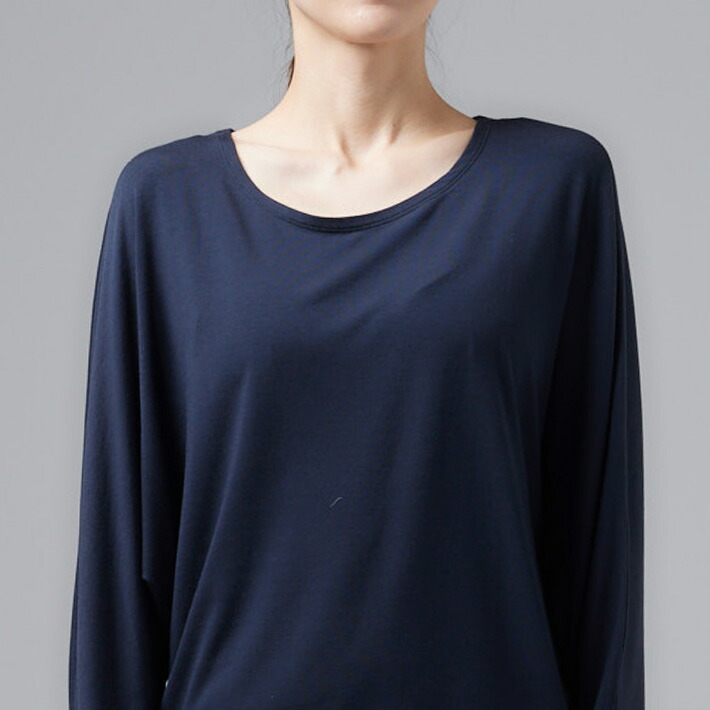 首を長く綺麗に見せてくれるラウンドネック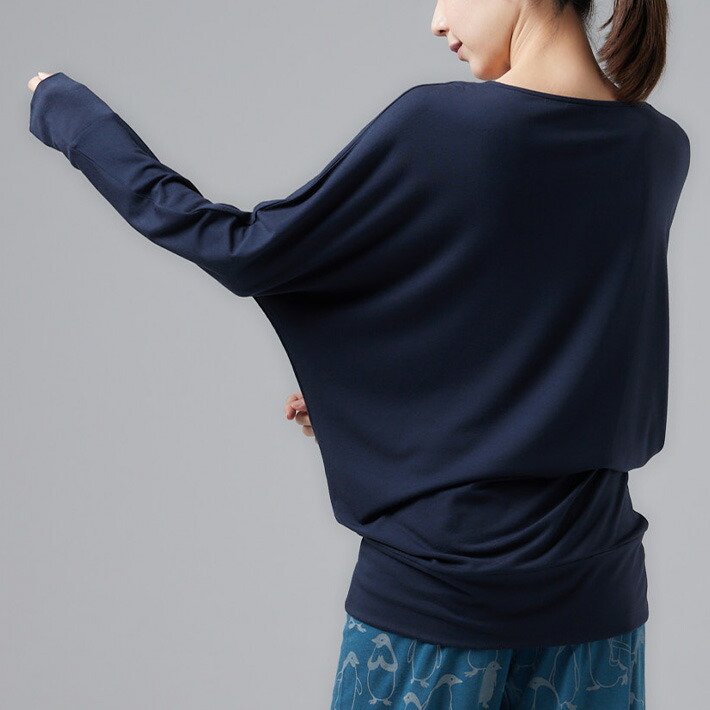 ポーズがとりやすいドルマンスリーブ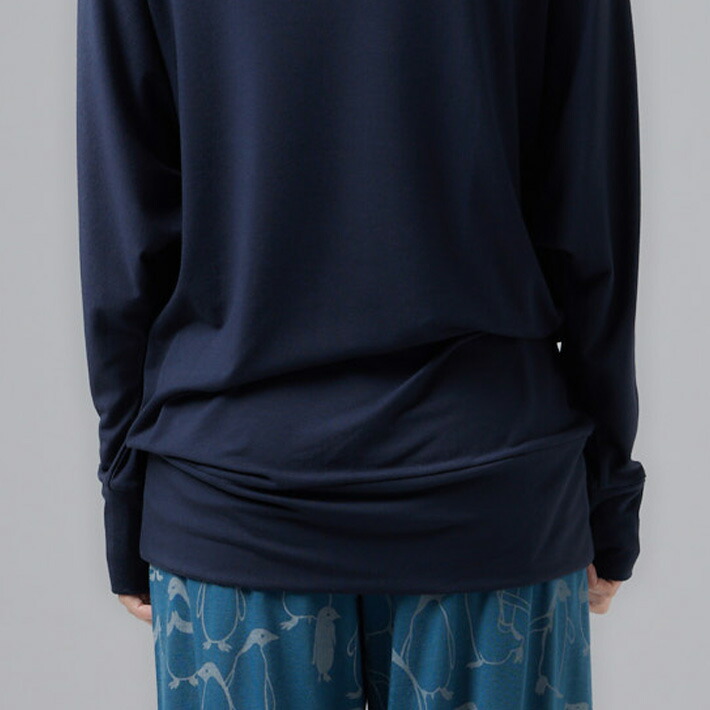 長め丈で気になるヒップ周りをカバー

裾にロゴマーク入り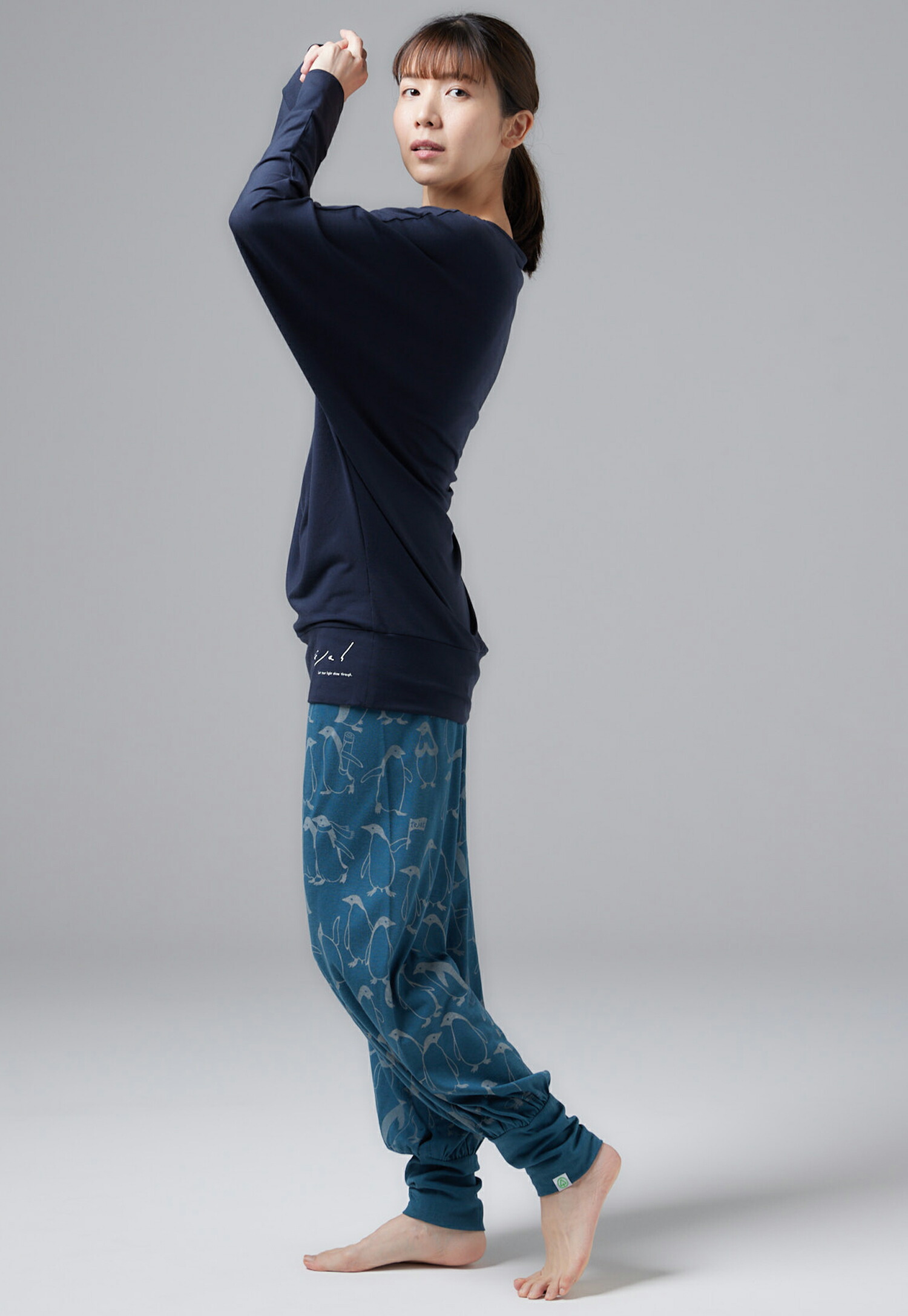 着用モデル Kaori:162cm
ボトムス:[tejas] アワニーボトム(ペンギン)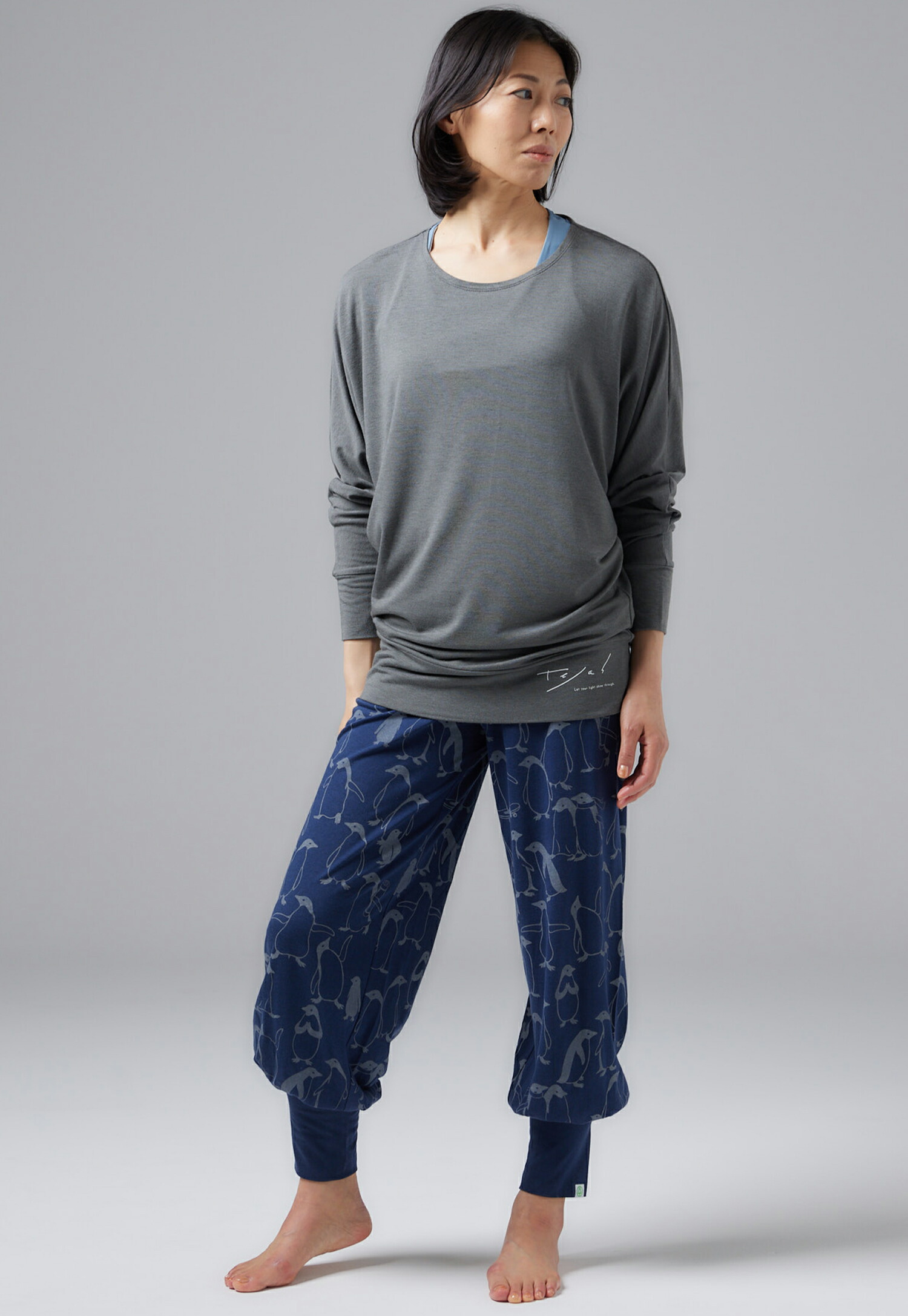 着用モデル hiro:169cm
ボトムス:[tejas] アワニーボトム(ペンギン)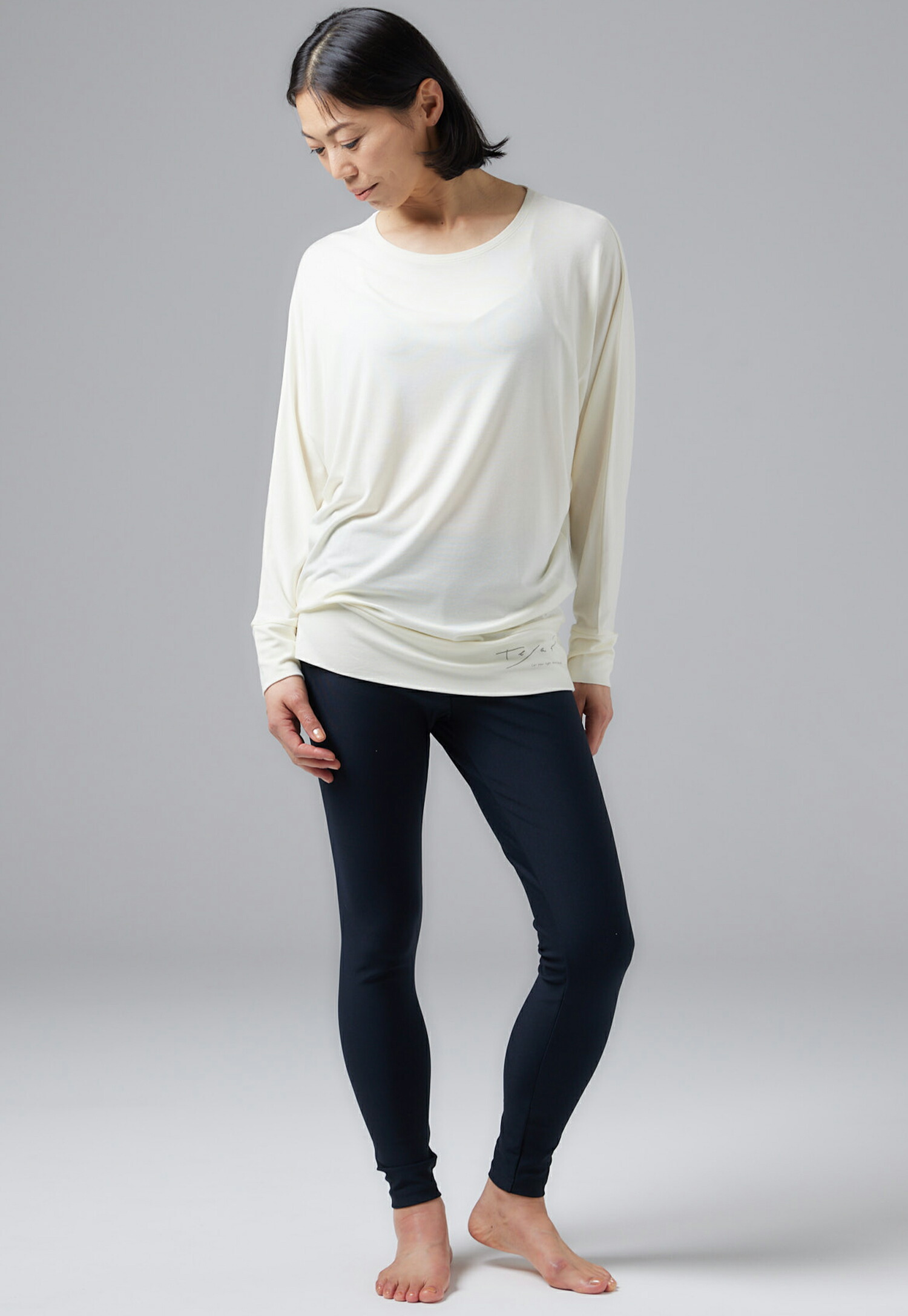 着用モデル hiro:169cm
ボトムス:参考商品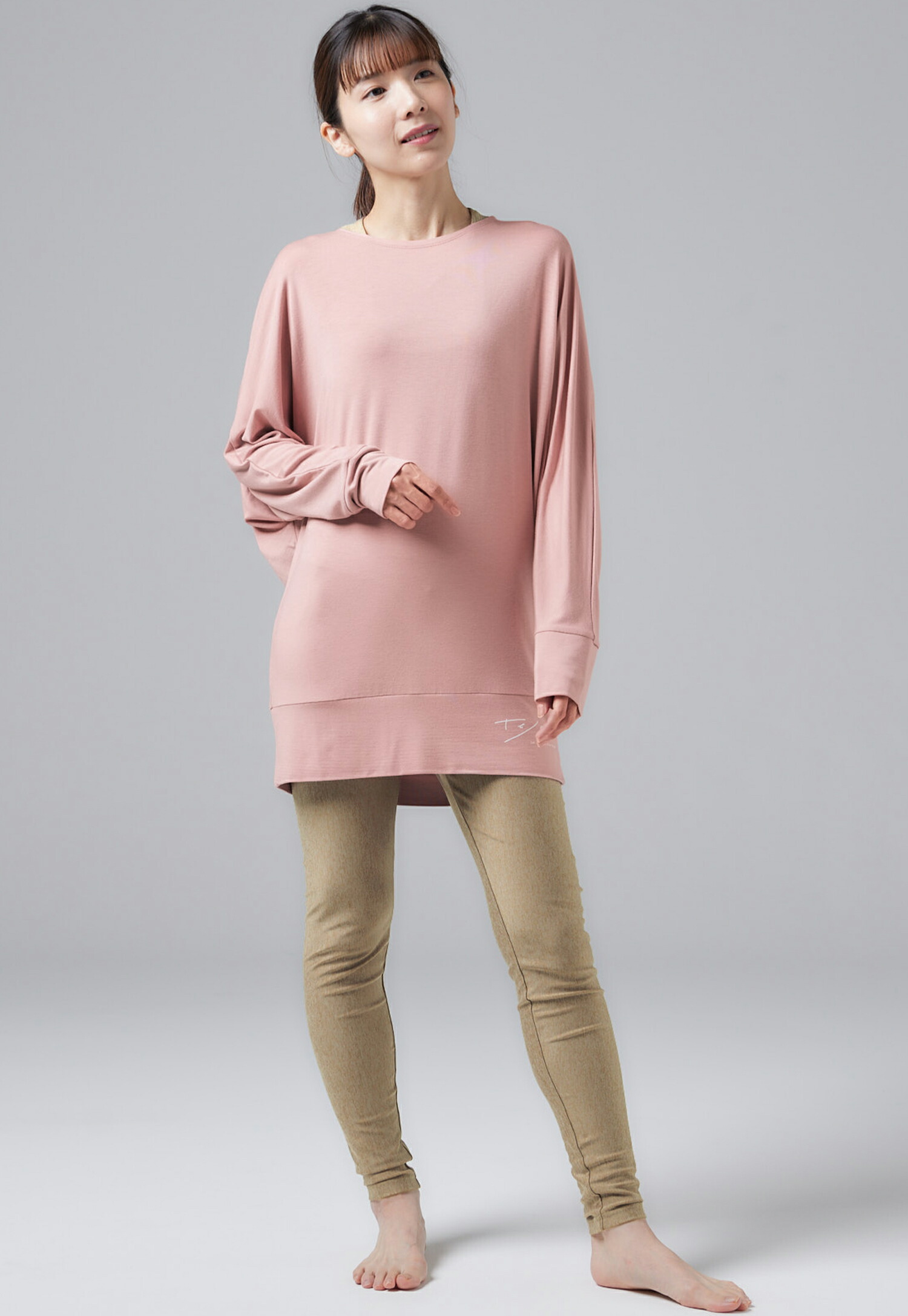 着用モデル Kaori:162cm
ボトムス:参考商品